Jason deWitt from wearesmall.com added a plastic dome cover to his Space Command Set. He says: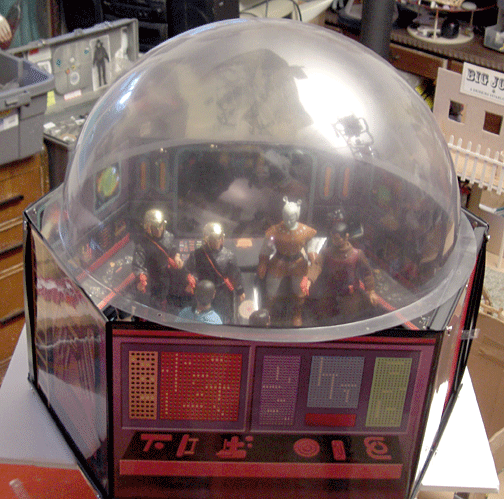 The Dida playset is a jewel. The design is so simple that no instruction sheet was needed, and the materials are perfect. The original Mego sets were made with cardboard akin to that found on the back of a pad of paper, and sagging and bending were the norm. Dida sets are thick, sturdy, and built for warp speed. Gone are the cheap painted walls of the original Mego Enterprise set, now the crew has awesome 3D computer consoles on every wall with buttons and dials to operate! Mr. Spock would be deeply thrilled about it if he wasn't against that kind of thing.
I'm impressed with the whole playset. Scott's thoughtful designs and awesome art are enough, but I think this set's strongest appeal is the way it combines nostalgia with innovation. It reminds me of how great Mego's old USS Enterprise set was when I was a kid, while at the same time it photon-torpedoes that set away. Get one today, and make your toys happy!